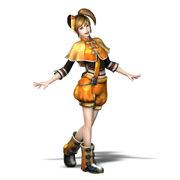 Xiao Qiao is main protagonist. Zhao Yun's best friend.
Warriors Orochi 4 - Initially Characters
소교 - 여민정
"Listen. Hoshina Utau's Alive. I think tell the truth." (Mook Situation)
"Let's Do It. Zhao Yun." (Warriors Orochi 4)
Xiao Qiao is affiliated with the iron fan in this appearance. When she is equipped with it, she can perform a unique attack exclusive to her. Upon performing her Musou techniques, she will automatically use the weapon in her attacks.
EX Attack: Square, Square, Tri, Tri: Shoots forward an unblockable beam of light.
Musou - Whirling Fists (天空拳): Circle: Spins upward with her fan surrounded in flames. In Warriors Orochi 4 - Select Musou 2
Aerial Musou - Meteor Strike (爆裂砲): X, Circle: Creates a large fireball to send down toward her enemies.
Tri: Produces a gust of wind by waving fan while hopping.
Square, Tri: Does an upward strike while leaping at a low altitude.
Square, Square, Square, Tri: Spins around attacking enemies while moving.
Square, Square, Square, Square, Tri: Performs a leaping spin twice. The second spin releases a multi-hitting whirlwind.
Square, Square, Square, Square, Square, Tri: Jumps up and throws fan at a downward angle before landing on rear.
X, Tri: Twirls around in mid-air, hurling a tornado forward on the ground.
R1: Blows a gust of wind to create enough momentum to slam rear into the enemy.
X, R1: Spins around counterclockwise in the air repeatedly, generating a massive whirlwind in the process.
EX Attack 2: Square, Square, Square, Square, Square, Tri, Tri: Originally Xiaoqiao's deadlock attack from Dynasty Warriors 6, she climbs unto the nearest opponent and coerces them to carry her before smacking her intended victim on the head.
Musou - Peach Fans (桃周扇): R1 + Circle: Causes fan to spin around her counterclockwise, creating an orange-colored gust of wind in its wake. In Warriors Orochi 4 - Select Musou 1
Awakening Musou: Smacks enemy with weapon using both hands while leaping. The attack ends with her hurling fan in a small circular formation before emitting a powerful energy burst. After accumulating enough hits during the initial phase, she runs wildly while unleashing a fiery windmill strike accompanied by an electric-imbued fan toss near the end.
2018 March 16th Playstation 4, PC, XBOX Games - Warriors Orochi 4 Curse of the Demon Snake in Gallery
Edit
Screenshot
Edit
Community content is available under
CC-BY-SA
unless otherwise noted.