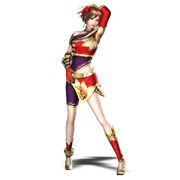 She is Kasumi's best friend.
Download Costume
Edit
"Kasumi, You saved." (Warriors Orochi 4)
Sun Shang Xiang is affiliated with wheels in this appearance. When she is equipped with it, she can perform a unique attack exclusive to her. Upon performing her Musou techniques, she will automatically use the weapon in her attacks.
EX Attack: Square, Square, Square, Square, Square, Tri, Tri: Crouches low to the ground to spring forward feet first though her opponents.
Musou - Rising Tiger Kick (猛虎天昇脚): Circle: Somersaults twice and kicks an enemy. If the kick connects, Sun Shang Xiang jumps onto the victim's head and performs a chain of quick jabbing kicks, then does a backflip. Used in Warriors Orochi 3 and Select Musou 2 in Warriors Orochi 4.
Aerial Musou - Crimson Volley (紅蓮弓): X, Circle: Pulls out a bow in midair, draws it with the help of her feet, then shoots an arrow surrounded with a powerful flaming aura towards the ground, hitting a wide radius. Used in Warriors Orochi 4.
X, Tri: Throws both weapons downward in an arc fashion before catching them back.
R1: Causes weapons to burst into flames and orbit within enemy ranks before triggering an explosion.
X, R1 (Ultimate only): Propels self forward in an angular spinning motion, damaging enemies caught within range of the attack.
EX Attack 2 (Xtreme Legends only): Square, Square, Tri, Tri: Sets wheels on fire and launches them forward to juggle nearby enemies.
Alternate Musou - Skyarrow (旋環天衝弓): R1 + Circle: Causes wheels to cycle around within the enemy ranks to lift them up. She tumbles back and fires red-tinted arrows in the air for additional damage. Select Musou 1 in Warriors Orochi 4.
Awakening Musou: Throws weapons like a boomerang one by one within short distance. She then crouches down and fires an arrow that unleashes a fierce burst of energy. The extension has her twirling both weapons on each side and tossing them together before having them spin telekinetically on a single spot near the end.
Community content is available under
CC-BY-SA
unless otherwise noted.